Winter Capsule Wardrobe | 7 Tips to get Your Wardrobe in Check
We may earn money or products from the companies mentioned in this post.
Find your perfect winter capsule wardrobe with these 7 capsule wardrobe examples!
Creating a winter capsule wardrobe, where you aim to have a more uniform look, is easy to create. All you need is a little confidence. A change in seasons doesn't mean you need a whole new wardrobe, especially if you're on a budget. This article showcases a winter capsule wardrobe checklist of must-haves for any minimalist fashionista.
If you've ever opened a stuffed wardrobe, stared at your clothes, and couldn't decide what to wear, you're not alone! In a world where fast fashion trends come and go, it's easy to pile up too many garments that don't communicate our individual style and that we feel guilty about getting rid of.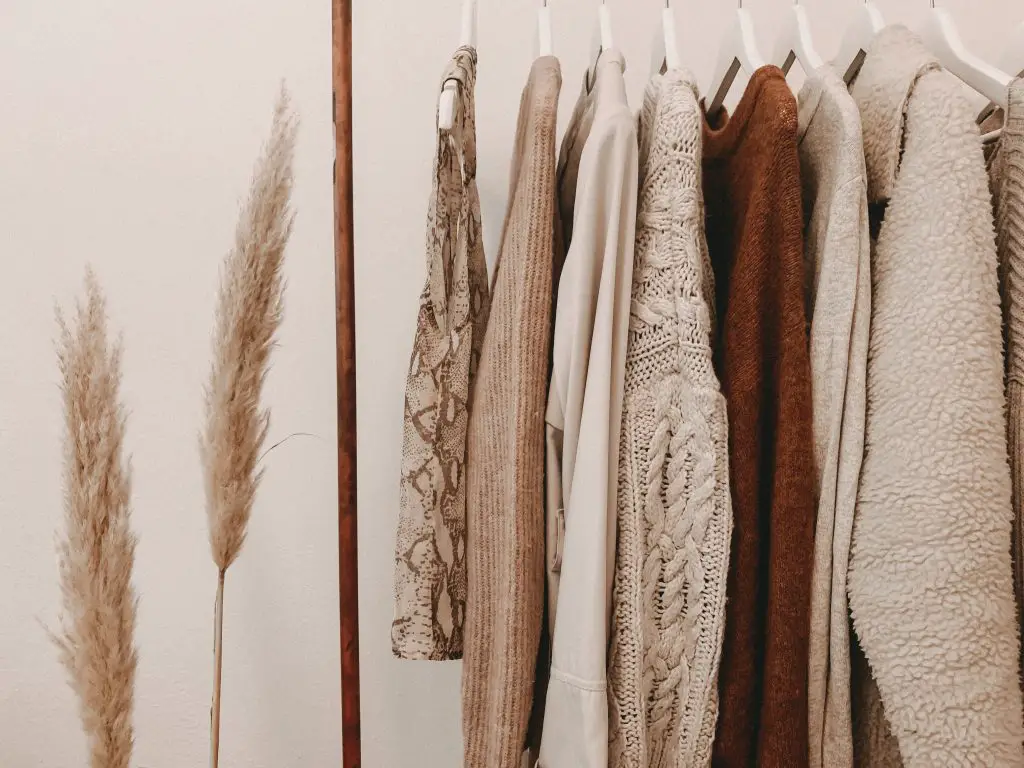 After getting dressed in less than 3 months worth of clothes; pieces including jewelry, accessories, and shoes. I discovered how important a capsule wardrobe is. 
What is in a Winter Capsule Wardrobe?
The point of creating a capsule wardrobe look is to minimize the number of items you have at hand and maximize the number of ways you can wear a piece. The idea for creating a capsule wardrobe you can wear with anything is to take several pieces (15-20) that work well with your style and exchange each piece to create new ideas.
I rely on my wardrobe throughout the season to wear my favorite clothes and still save money without going out and getting new ones. The concept of a winter capsule wardrobe is not only to reduce what you buy and own but also to get more out of what you already have. Now let's dive into styling with capsule wardrobe examples you can use no matter the season!
Complete Winter Capsule Wardrobe Examples!
Layering
When you're first creating your winter capsule wardrobe, use pieces you already have in your closet that works well for the season. This is the best place to start! Let's pick pieces for layering options first. There are many ways you can layer your clothes to add visual interest. I've had my fair share of fitted semi-sheer cotton tops that ran out of season. I prefer to layer those during late fall when the temperatures start to take a dip. You can never have too many layers. A fitted cotton shirt is a great way to layer without looking bulky and out of shape. Cardigans are a must when layering to stay warm. They can be paired with even a simple t-shirt and jeans. Another great layering piece is button-downs. They are light and can be layered over or under any top for a stylish look.
Blazers, Blazers, Blazers
Coming off the layering idea, we have blazers that are great when adding on a layer or 2! Blazers work great as transition pieces that can lead into any season or occasion. You can also throw on a tank or skin-hugging long-sleeved shirt with a blazer/jacket. It'll help you look more polished and structured without the bulk. Blazers were made popular by Kim Kardashian, and more and more women are styling them with simple pieces they already own to create a dressier look. Thanks, Kim!
Light and airy
When it comes to styling clothes, less is more. And in the spring to summer months, lighter is better! So, we must pay attention to our pieces to know how we can transition into those hotter and cooler months. T-shirts, Cami's, and crop tops are sure to keep you feeling cool. Paired with mom jeans, frayed shorts, or workout leggings have been the trend for millennials. Choose pieces that you can mix and match with each other, so you get more value out of your existing wardrobe but also pair and layer during winter or colder times.
Jeans
Jeans can be worn any time of the year and are essential to creating any staple wardrobe look. The most flattering style is straight-leg or bootcut jeans with a mid-rise waist, about two finger widths under the belly button. For the longest, leanest leg line, a dark wash jean always looks best. For me, jeans are about timelessness––sexy now, and sexy in 50 years.
Trench Coats
This classic coat can look great in lots of different ways. You could pair a trench coat with different accessories like scarves or boots. My take on this would be jeans with a white top. A colorful trench coat will add a pop of color to this classic look. You could also spice up your denim-on-denim look by pairing a trench coat.
Wraps
The wrap dress is a versatile piece that every woman should have in her closet if she doesn't already. Wear a Cami under styles that have deep V-necks during the day, then take the Cami off for a night out. The goal is to create an hourglass shape even if it is not your body type. This will give the illusion of a curvy figure. Wrap dresses are classic staples for any winter capsule wardrobe choice that can be dressed up or down. They are perfect for any season.
Accessorize it
Accessories are a smart way to update any wardrobe. They've been an unused resource that can add a lot of style and personality to your outfit. You can update your capsule wardrobe with accessories like chunky necklaces, oversized sunglasses, and cute booties.
A chunky necklace can be worn with a V-neck shirt and a pencil skirt. Oversized sunglasses can be worn with a short sleeve tee and jean shorts. A cute bootie can be worn with ankle-height jeans. The accessories are the hidden gems in your wardrobe that have the power to turn a boring outfit into something special.
Utilizing these 7 capsule wardrobe examples will help you create the perfect winter capsule wardrobe. These looks are sure to have you ready for any occasion! Using the pieces you already have is the most cost-saving strategy as I mentioned in the beginning. It only takes a few minutes to throw together while also looking well put together.
If you follow these basic recommendations, you will have a wardrobe that is on-trend and timeless. I don't count every piece I bought for my minimalist wardrobe, but if you throw in a few alternatives that fit your budget, you'll look great while minimizing your wardrobe without breaking the bank. 
Check out The Best Bedsheets on Amazon that are sure to update your bedroom style!
T
ell me, what's at the top of your winter capsule wardrobe checklist?